---
by
FarmSafe Foundation / Fondation Sécuriferme
---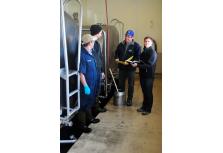 Project Details
Farm safety doesn't just happen. It takes time, resources, planning and training. You can help by supporting the development of farm safety resources and training. Help Canadian farmers manage farm safety risks on their operations. Donate today!
For more information on CASA resources and training, visit casa-acsa.ca/training and casa-acsa.ca/CanadaFarmSafePlan.
Donation Deadline
Deadline Not Specified
Project Website
http://casa-acsa.ca/CanadaFarmSafePlan
Project Location
3325-C Pembina Highway,
WINNIPEG,
Manitoba R3V0A2
Canada.
View all projects by FarmSafe Foundation / Fondation Sécuriferme