---
by
FarmSafe Foundation / Fondation Sécuriferme
---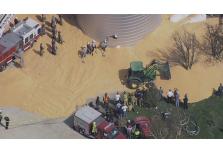 $800,000.00
Donation Goal
Project Details
The frequency of grain entrapments is growing nationally. CASA is doing something about it. CASA is developing a Grain Safety Program. The heart of this program includes building a mobile demonstration unit which can function as both a grain entrapment demonstration unit and a rescue training unit.
Donation Deadline
Sunday, Mar 31, 2019
Project Website
http://casa-acsa.ca//BeGrainSafe
Project Location
3325-C Pembina Highway,
Winnipeg,
Manitoba R3V0A2
Canada.
View all projects by FarmSafe Foundation / Fondation Sécuriferme