---
by
EVER AFTER MUSTANG RESCUE TRAINING AND EDUCATIONAL CENTER
---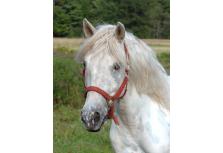 Project Details
Jazz is a handsome 18 year old gelding born in captivity. His sire being a mustang and his mother a POA, he definitely shows the best of both breeds. Our veterinarian has confirmed that Jazz is now totally blind.
His winter coat is pure white with black mottling around his mouth and nose, but shedding out reveals large black spots on the skin surface of his chest and sides. Truly unique. At 14 hands his mustang heritage reveals a stocky, solid body, strong durable legs and great hooves.
Jazz loves human attention and is a favorite among visitors. Due to his blindness, it is difficult for him to navigate his stall and daily turn out. Therefore, we would like to build him a sturdy shelter and attached, outdoor enclosure to maintain his safety.
Donation Deadline
Sunday, Dec 31, 2017
Project Website
http://www.mustangrescue.org
Project Location
463 West Street,
Biddeford,
04005
United States.
View all projects by EVER AFTER MUSTANG RESCUE TRAINING AND EDUCATIONAL CENTER