---
by
FarmSafe Foundation / Fondation Sécuriferme
---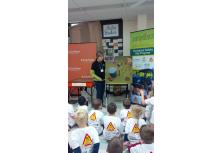 $300,000.00
Donation Goal
Project Details
Since 2002, Safety Day events have been held in Canada to support farm education for rural youth, the largest rural safety and health education program for children in North America.
Safety Days typically consist of one-day, age-appropriate safety events that help children learn how to be safe on the farm. Events feature mix-and-match stations covering everything from sun safety, recognizing and avoiding chemical exposure, to safe animal handling. Participants rotate among different safety stations, allowing each child the opportunity to participate in interactive and engaging activities.
Communities select activities based on their own local rural safety needs. While the basic program is geared toward the education of children between the ages of eight to 13, safety days are for everyone, and may be customized for a family audience as well.
Since 2002, Safety Days have reached over 100,000 children and participants in Canada!
For more information about this program, visit casa-acsa.ca/SafetyDays.
Donation Deadline
Deadline Not Specified
Project Website
http://casa-acsa.ca/SafetyDays
Project Location
3325-C Pembina Highway,
WINNIPEG,
Manitoba R3V0A2
Canada.
View all projects by FarmSafe Foundation / Fondation Sécuriferme