---
by
INTERNATIONAL RESCUE GROUP
---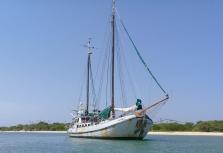 Project Details
Our 97-foot sailing vessel has voyaged 9,000 nautical miles and conducted 8 humanitarian aid and disaster relief operations in the Caribbean in over 3 years, supporting dozens of other yachts in the region with volunteers and supplies. These missions have been mainly hurricane response mainly to Dominica, Puerto Rico, British Virgin Island and Haiti.
Thunderbird 5 has been our flagship and focal point in the Caribbean, now International Rescue Group plans to re-fit the ship for a new mission to set up operations in Asia servicing Thailand, Indonesia, Vietnam, Myanmar etc., based in the Philippines.
Our budget is $35,000 to place this vessel in service for sailing December 2019.
Donation Deadline
Tuesday, Dec 31, 2019
Project Website
http://members.internationalrescuegroup.org/group/refit-irg-s-97-foot-flagship
Project Location
Progreso, Yucatan,
Yucatán Mexico.