---
by
EVOKE FOUNDATION
---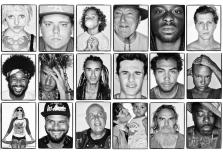 Project Details
WE ARE ONE VOICE an EVOKE project is a photographic tour across America that celebrates diversity, its rich importance in American society and the role it has played in making America a great country.
WE ARE ONE VOICE is an exploration of our differences and how they bring us all together for one common cause, one voice no matter our race, ethnicity, gender, gender identity and expression, socioeconomic status, nationality, citizenship, religion, sexual orientation, ability or age.
We create engagement through daily on-line social media conversations, digital, experiential platforms and the use of traditional media, print and radio. As we travel 9818 miles across country we compound the message day after day for the 60 day tour through 25 cities creating a powerful campaign to educate and raise awareness of diversity in America.
We engaged over 1 million people on social media in the first city we photographed Venice, California. Everyone sharing and discussing the importance of diversity in our communities and telling their stories.
You can help us get on the road to reach millions more people to campaign and raise awareness of diversity in America
WE ARE ONE VOICE touches on a subject that is of great importance and discussion at this moment in history and touches upon all sectors of the public. With protests across the country, people demanding respect for one another, whether it's the travel ban, mass deportations, transgender rights, women's rights or anti-Semitic and racist behavior. This project showcases and unites the diversity of the nation, a nation divided, but coming together to facilitate change. These are the voices we want to hear these are the discussions we want to evoke.
WE ARE ONE VOICE is the evolution of a project created during the Rwandan conflict in 1994. EVOKE founder Seamus Conlan brought together the resources of the United Nations Children's Fund, the International Committee of the Red Cross, Eastman Kodak and Life Magazine to help reunite more than 21,000 lost children with their parents using photographic image, this process is now a standard form of tracing people in developing nations. A compilation of these images was chosen by LIFE Magazine as the '100 images that changed the world'
The founders have spent their lives dedicated to the idea and implementation of photography as a tool for change and have committed to finding and showcasing to the world important issues through the visual medium.
Donation Deadline
Deadline Not Specified
Project Website
http://evokefoundation.com
Project Location
United States.