---
by
The Mustard Seed Mission| 基督教芥菜種會
---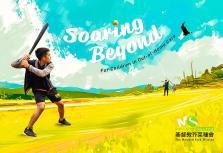 Project Details
SUMMARY
Children in Agape children's home are sometimes confused and have no confidence because of their own circumstances and family background. But we believe that each child has different abilities and advantages, so in addition to the coursework, we also hope that children can have more exploration through the activities of talent learning, adventure experience, summer camp, etc.
在愛心育幼院的孩子們有時會因為自己的情況和家庭背景而感到困惑並且沒有信心。 但我們相信每個孩子都有不同的能力和優勢,所以除了課程外,我們也希望孩子們能夠通過才藝學習、探險體驗、夏令營等活動進行更多的探索。
Challenge
In Agape Children's Home, children are from different families. These children bear many negative moods such as fear and cowering which would cause them to misunderstand themselves and lack of self-confidence. It also leads them not easy to accept new things because they are wounded.
在愛心育幼院,孩子們來自不同的家庭。 這些孩子承受著許多負面情緒,如恐懼和畏縮,這會導致他們誤解自己和缺乏自信。 這也導致他們不容易接受新事物,因為他們受傷了。
Solution
We offer opportunities for children to learn talents. Children can build confidence from learning different talents. In order to expand children's understanding of different jobs, we invite guests to talk about their jobs and personal experience. Children also can expand their views through workplace visits and part-time jobs. In the summer camp, we can build children's problem-solving abilities directly from the experience through the process of grouping tasks in teams.
我們為孩子們提供學習才藝的機會。 孩子們可以通過學習不同的才藝建立信心。此外,為了擴大孩子對不同職業的理解,我們邀請客人談談他們的工作和個人經歷。孩子也可以通過工作場所訪問和兼職工作擴大他們的觀點。在夏令營中,我們可以通過團隊分組任務的過程直接從經驗中建立孩子的解決問題的能力。
Long-Term Impact
It is expected that about 30 children will attend the talents classes, 30 children and youths will attend the career exploration program and 30 children will participate in the summer camp.
預計將有約30名兒童參加才藝課程,約30名兒童和青少年將參加職業探索計劃,約30名兒童將參加夏令營。
Donation Deadline
Friday, Jan 31, 2020
Project Website
http://bit.ly/2F6X0hl
Project Location
9F.-2, No.4, Ln. 609, Sec. 5, Chongxin Rd. Sanchong Dist., New Taipei City 241, Taiwan,
New Taipei City,
Taipei 24159
Taiwan.